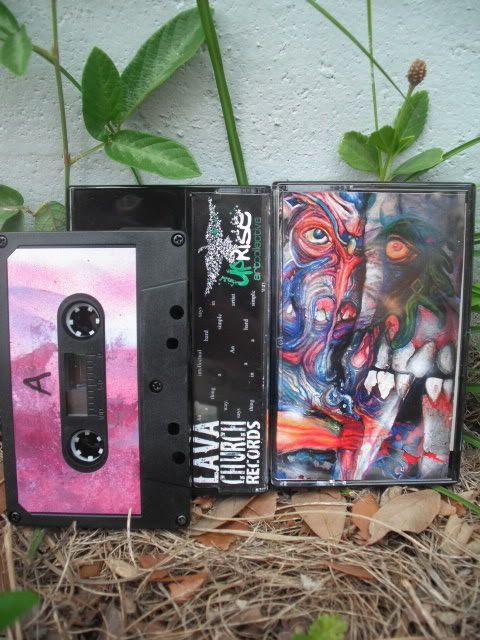 When listening to Patrick McBratney's Lovebrrd, I couldn't shake the feeling I'm listening to the electronified version of Russian Tsarlag, my little lo-fi crush from Providence, RI. Not only is the sound of both projects extremely crunchy and low quality, but there is also a serious teen-goth-loner-creep vibe to both of them. But whereas the Tsarlag's Carlos Gonzales uses two or three stringed electric guitar and the most basic drum machine possible, McBratney constructs his music on cheap Casio keyboards.
The creepozoid pop sounds of Patrick McBratney's songs are combined with an almost 8-bit drums – the basic drums from the aforementioned Casio synths are reduced to a mere glitch propulsion against which extremely distorted vocals a'la Wet Hair are placed. It is not to say McBratney tries to hide his lack of songwriting skills under the lo-fi synth haze – the songs are well written and most melodies are catchy and easy to remember (after a few listenings, though, at first the murky sound might make it hard to get through the tape in one listen). The titles of the songs might show an interesting creative process behind the cassette, as the tracks on side A are marked only with mysterious letters and numbers, giving them a sense of alienation and anonymity (4T1, 4T2 etc.), whereas the songs on side B are more "human", having regular song titles ("Miss Cleo", "Feeling Blue", "A Place to Call My Home" etc.).
I have to say, Patrick McBratney managed to nail down the characteristic "bedroom loner" pop sound, so often talked about when describing various amateurish records recorded at home. McBratney's vision is hazy and crunchy, but behind all the grime there is a certain beauty. Oh, and bonus points for adding a collectible card with naked Betty Page wearing fishnet stockings. I'm a sucker for fishnet stockings.