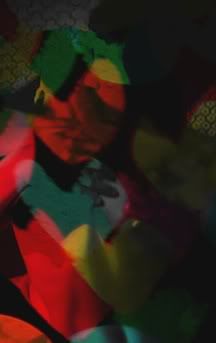 Justin Marc Lloyd gradually made his name in the Baltimore underground through his massively prolific noise/harsh noise project Dim Dusk Moving Gloom, later renamed Pregnant Spore. With Dementia and Hope Trails he decided to take things in the new, less noisy and more floating direction. While his Depress still had a lot of harsh ambience to it, Ethereal Hurt is much more polished and smoothed out. Two 10-minute long sides of textural, echoing drone much in the vein of Geoff Sexton's Suburban Sun Births, although not as dark. Lloyd creates an otherworldly thick fog with God knows how many effects, creating that familiar "what the fuck did he use to create this sound" feeling, which I had for the first time when I heard Super Minerals' "Abyssal" off their The Pelagics.
The first of the two tracks, "Go" (or at least I think it's the first, the sides are not labeled A and B), conjures up what appears to be a synthesizer equivalent of shoegaze, the extremely stretched out variety of shoegaze that is. It's hard to recognize the melodies in this – if there are any – all the note changes are in such a distance from each other that it might also be a skeleton of a melody – or no melody at all. The endless washes of gentle white noise and distant high-pitched apocalyptic sounds add further to the confusion. The flip-side, "Dead" is clearer and somewhat faster, with a recognizable melody and a clearer sound similar to the likes of Marble Sky, Pale Blue Sky or Sky Stadium; a perfect rest from the snowstorm of the previous track.
Justin Marc Lloyd's tape is not exactly reinventing the wheel, but it's rather like a well-done homework in ambient and drone music. However, I have a feeling that if Justin will be able to master the hazy sound presented on "Go" and make it more personal and recognizable, he might be seriously going places.